Meet Mike Harrington, Healthy Living Advocate
200 Pounds Lost · 6 Years Sustaining. He Shares His 7 Keys to His Weight Loss Transformation.
Q & A With Mike Harrington of Mike Inspires Me Hosted By Tony Vassallo of MODA Nutrition Inc.
Saturday, May 15, 2021, 9:30 a.m. ET – 10:30 a.m. ET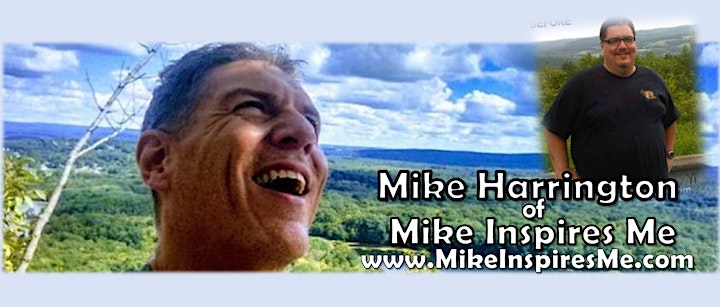 When I first embarked on my weight loss journey, I had no idea it would lead to my becoming an inspiration to people. It makes sense now, but at the time the only thing on my mind was just losing the weight so I could be "normal" sized. I was tired of being a spectacle. Not to mention all of the health issues I was accumulating over time.
Hosted by: MODA Nutrition & Weight Loss Inc. is a Weight Loss Support Group Geared Towards Guys & Couples.
Tony Vassallo is the Founder of MODA Nutrition Inc, Culinary Nutritionist, Author, and Documentary Producer.
Tony's been touted as a Man on a Nutrition Mission™. His passion is helping people achieve healthy sustained weight loss. He has been on the journey himself. Tony is an avid proponent of eating whole, unprocessed foods: using real food to flavour real food. Hence his mantra of J.E.R.F. Just Eat Real Food! Learn more about Tony Vassallo
MODA Nutrition & Weight Loss Website: ModaForMen